1 1/2 Christmas Bachelor Eggs for 2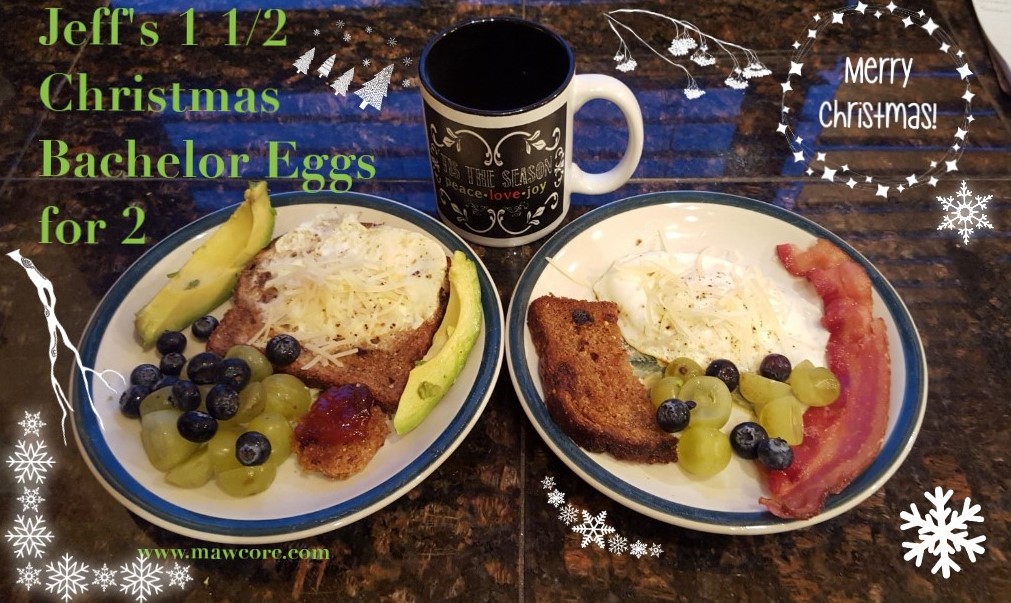 Ingredients: 
1 1/2 - slices of "Food for Life" Sprouted Grain Cinnamon Raisin Bread 
2 - Free Range Brown Eggs 
6 - tablespoons of Ghee or Butter 
2 - slices of thick maple cured bacon 
1/2 - ripe avocado 
11 - halved white seedless grapes 
17 - Organic Blueberries 
1 - dollop of fresh organic (no sweetener added) Strawberry Preserve 
2 - tablespoons 
1 - pinch of Himalayan Pink Salt 
4 - button presses of course ground black pepper right out of the battery 
operated grinder 
2 - tablespoons of Casaro Shredded Parmesan Gold Quality Cheese (aged 10 
Months) 
Heat up a 14" T-Fal Frying pan to 5 on a Kenmore glass top stove (preferably 
the right front burner, choice of center ring heat only) . 
Drop 3 TBS of the Ghee on the pan to set the non-stick stage. 
Cut a hole in one slice of the Sprouted Cinnamon Raisin Bead and leave the 
other slice whole (Helpful Suggestion: use a measuring cup ...handle 
removed... from an emptied canister of "Garden of Life" Raw Organic PERFECT 
FOOD to cut the hole in the one slice of sprouted Cinnamon Raisin Bread). 
butter/Ghee both sides - both slices of the Sprouted Cinnamon Raisin Bread 
(even the hole and gently lay them in the heated ghee, 14" T-Fal Pan. 
Carefully crack open the 2 Free Range Brown Eggs with one hand skillfully 
dropping one into the hole produced by the altered Garden of Life measuring 
cup and the other into a space on the Ghee heated T-Fal pan. 
Cover the pan with an appropriate sized cover taken from a 14" stock pot. 
Now prepare the rest of the ingredients as they will be decor and garnish: 
Count out the 17 organic blueberries, 
split the 11 organic seedless white grapes, 
nuke the 2 slices of bacon on a paper-towel-covered Pfaltzgraff 12" plate 
(Suggestion ...the pink flowered rim plates are pretty) with individual 4 
minute presses on the Kennmore Elite, Avantium 120 Microwave Oven "add a 
minute" button. 
ready the cheese, pepper, salt 
set the 2 - Six inch CASUALS Apple Decor plates made in China by Chinapearl 
to get ready for the final placement. 
Use the picture attached as a template and decorate the breakfast as seen. 
While preparing the "his" plate with the Egg in center of the Sprouted 
Cinnamon Raisin Bread Slice - 1/2 of the Avocado (she didn't want any) and the 
hole cut out piece with the topped with the Preserve (she doesn't eat any) and 
"Hers" with the Egg alone, cutting the whole slice w/o a hole in half for her 
(and eating the other right there so there is no waste) ... Eat one of the 
pieces of bacon because you are hungry and can't wait ... Count the grapes, 
blueberries: carefully and unfairly split between the two plates. Arrange it 
like the pick - sprinkle with salt, pepper and parmesan. Put hers under a 
glass pot cover... Put it on the stove so when she gets up it will be there. 
Eat yours because now you are too hungry to wait for her to get up. 
Merry Christmas!