Cranberry Salad Candles??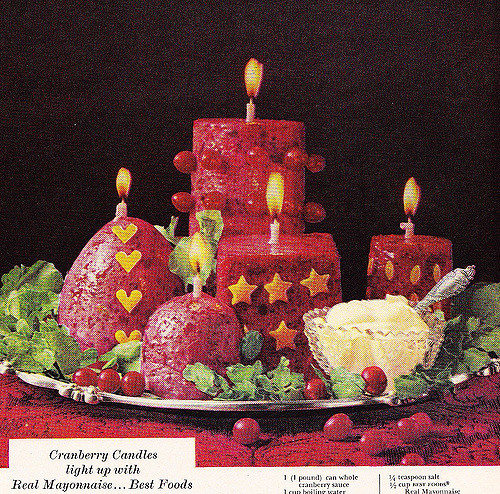 This one is especially fun and real? Yes, real and full of so much goodness. It comes to us from the pages of BonAppetit, which was an actual recipe put out in the 1960. So enjoy this wonderfully nutritious crowd wowing holiday beauty.
1 1-lb. can of Ocean Spray Whole Cranberry Sauce 
1 3-oz. pkg. red, yellow, or orange fruit-flavored gelatin 
1 cup boiling water 
1/4 teaspoon salt 
1 tablespoon lemon juice 
1/2 cup HELLMANN's Real Mayonnaise 
1 apple or orange, peeled or diced 
3/4 cup chopped walnuts 
Heat cranberry sauce, strain, set berries aside. Dissolve gelatin in hot juice and water. Add salt and lemon juice. 
Chill until thickened enough to mound slightly when dropped from a spoon. 
Beat in real mayonnaise with rotary beater till light and fluffy. Fold in 
cranberries, fruit and nuts. 
Divide mixture evently into eight 6-oz. fruit juice cans. Chill 4 hours or longer. Unmold. Garnish with real mayonnaise to taste. 
To flame: Cut thin birthday candle in half to shorten. Insert into tops of cranberry candles. Light. 
https://www.bonappetit.com/recipes/article/cranberry-mayonnaise-jello-salad-candles