Topless Bacon, Lettuce, and no tomato Sandwich Plus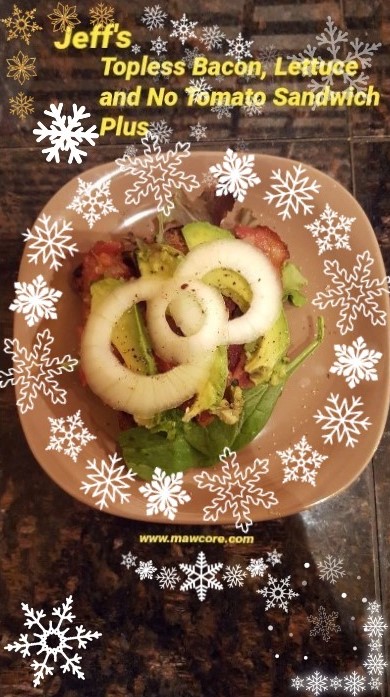 For those days before Christmas where your taste buds are drooling for a juicy (BLT) Bacon Lettuce and Tomato Sandwich all slimed up with Mayo ... but all you have is Alligator pears in the fridge ...Here is an amazing substitute using Alligator pears. (Makes two topless portions) 
Ingredients: 
4 - carefully fried up slices of Thick Smithfield Wood Smoked Bacon (The right hand burner on the glass Kenmore Elite set on single ring and just over 5 ... using a 14" TFAL "Skillet" - not to be confused with the band ...... T-Fal ---- turning often until crisp but not burned like a pagan sacrifice). 
2 - Toasted - Slices of Food For Life "The Original-Flourless /Sprouted Grain Bread/Cinnamon Raisin/ 7 Sprouted Grains" (All Natural - No Preservatives and good source of fiber) -- you eat it, you know it! Note: Toast it until it isn't frozen and not burnt. 
2 - generous Tablespoons of "Garden Fresh Gourmet" Fresh Salsa (repetition is the key to learning --- I guess it must be fresh;  unless it has an effervescing effect and smells like rotten fish eggs).  
1 - Mission - Ripe When Soft - Black, Alligator Pear - SKU number 4225 at Giant Food Store Wayne Avenue Chambersburg, PA. 
1 - Hearty Sweet Onion - 1/2" slice, separated into rings 
1 - Handful of Washed ...Nature's Promise Spring Mix and baby spinach - Note: Don't pick your nose while playing with the greens. The two greens don't mix well.  
3 - quick button presses on the battery operated grinder with Pink Himalayan Salt per topless sandwich 
3 - quick button presses on the battery operated grinder with whole black pepper corns per topless sandwich (this produces course ground black pepper. 
2 - heaping tablespoons of organic natural mayonnaise -- any brand will do ... it is all a lie, BUT there is a need for the sliming effect of the condiment. ( 2 per slice -- slime it up gooooood!) 
Now here is the order - plate up -- of the delectable pile creating this magnificent topless Christmas wonder: 
1. Toast 
2. MAYO 
3. Greens (split the handful - no boogers!) 
4. FRESH salsa 
5. 2 slices of bacon each sandwich - broken in half. 
6. 1/6 - 3 slices of the Black Alligator Pear. 
7. 3 artistically placed 1/2 sliced onion rings 
8. pepper 
10. salt 
11. EAT!! 
If the end result looks like the picture before you eat it .... 
Merry Christmas!!! 
Jeff