Clover Leaf Tuna Royals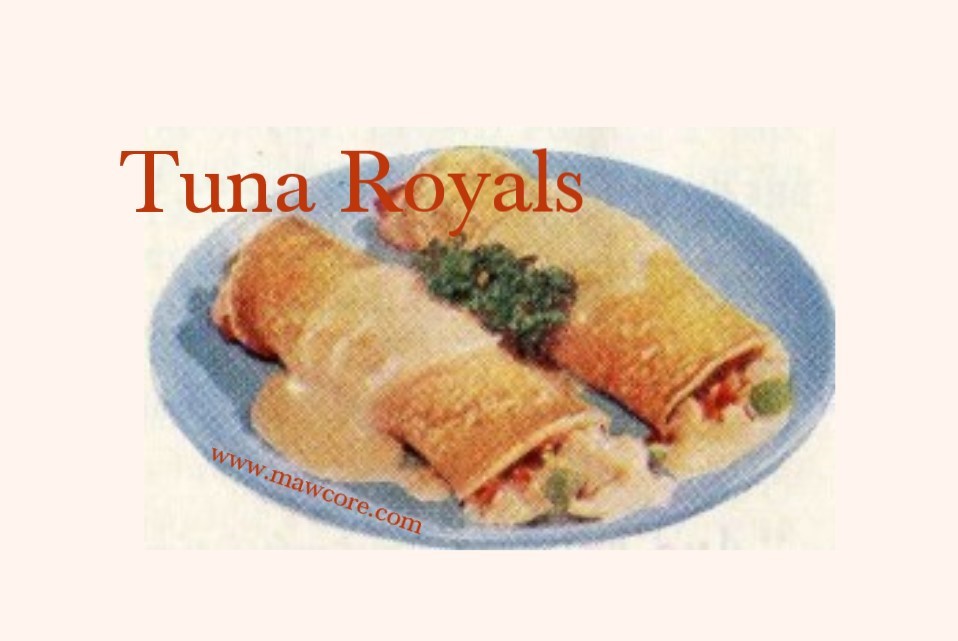 Here is a nice vintage treat sure to bring joy from your head to your feet?
1 ½ Cup Kellogs All Bran or Bran Buds Cereal 
1 2/3 Cups Milk 
3 Eggs 
1 7-oz. Can of Clover Leaf Tuna, drained and flaked 
1 10 ½ oz. Can(1 ¼ Cups) of Cream of Celery Soup 
2 Tablespoons of Flour 
½ Cup Sifted regular all-purpose flour 
1 Teaspoon Salt 
1 Tablespoon of Vegetable Oil 
½ Cup Grated Parmesan or process cheese 
½ Cup of cut celery 
¼ Cup of chopped pimiento 
2 Teaspoons lemon juice 
¼ Teaspoon salt 
¼ Teaspoon pepper 
2 Cups of Milk 
Pinch of Paprika 
1. Combine All-Bran and Milk; let stand until most of the moisture is absorbed. 2. Beat eggs well; add flour gradually, beating until smooth. Stir in salt and vegetable oil. Combine with All-Bran mixture. 3. Using ¼ Cup batter for each pancake, bake one at a time in well-oiled frypan, tilting so that the batter covers bottom completely, turning once. Stack baked pancakes on plate and set aside. 4. Combine Tuna, onion, ¼ Cup of the cheese, celery, pimiento and lemon juice. Spread each pancake with about 2 tablespoons of mixture; roll loosely and place side by side in greased, shallow baking pan. 5. Combine soup, flour, seasonings and milk in saucepan; cook over medium heat until thickened. Pour over filled pancakes; sprinkle with remaining ¼ cup of cheese and paprika. 6. Bake in moderate oven (375 degree F) about 20 minutes or until cheese is melted and pancakes are piping hot. Serve accompanied by buttered green vegetable or crisp salad.