Creepy Christmas Seafood Mousse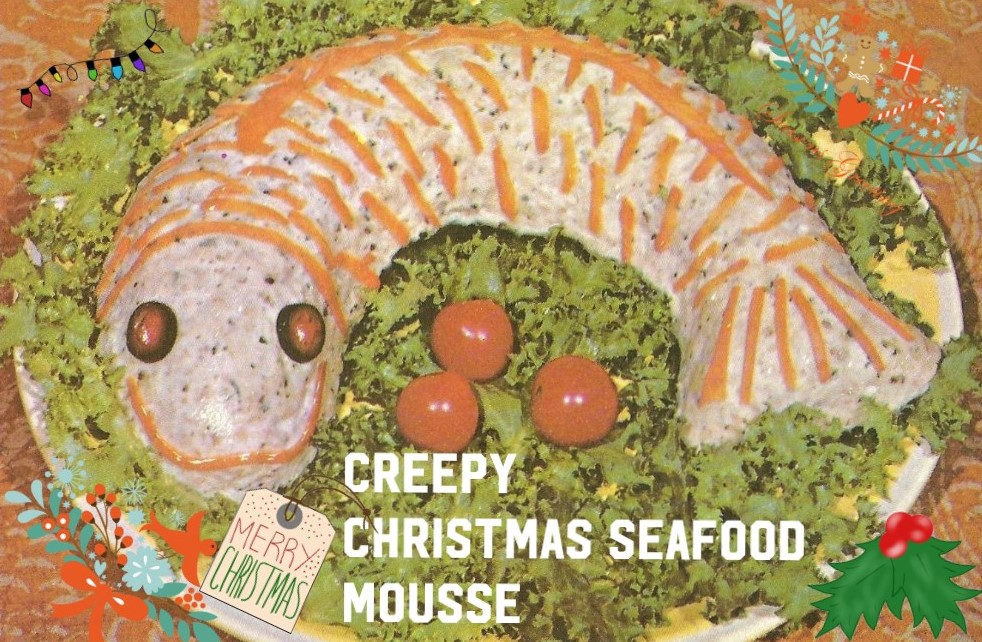 This one will be sure to get your guest all excited for the holidays. Nothing says Christmas is here like a Creepy Christmas Mousse!
- 2 cups cooked shrimp, minced 
- 3/4 cup minced onion 
- 3/4 cup minced celery 
- 1 (10.75 ounce) can condensed cream of celery soup 
- 1 (8 ounce) package cream cheese, softened 
- 1 envelope (1 tablespoon) unflavored gelatin 
- 1 tablespoon fresh lemon juice 
- 1 cup mayonnaise 
In a medium saucepan, heat soup and add cream cheese. Heat until cheese is dissolved into the soup. Dissolve gelatin into the soup mixture and add lemon juice, mayonnaise, onion, celery and shrimp. Cook until heated through. 

Grease a 6 cup Ugly Fish mold (or any other creepy mold you just happen to have laying around for that occasion you may want to creep out your dinner guest) with extra mayonnaise (because that is the healthy way to do it) or non-stick spray (especially the kind with extra plastic). Fill mold firmly (because handling such an ugly beast gently would not improve it's looks) with mixture. Smooth off the top and chill in refrigerator ( in a dark place, covered in with a dark lid to keep from scaring the other food in the refrigerator) overnight. 

Make sure to select a platter that is just as ugly as the mousse and then cover it with greens and especially just the 3 cherry tomatoes, because that will really help convince your guest to eat this dish. 

Invert mold onto platter and shake to release the mousse from mold. Garnish as desired (because that will somehow distract from the creepiness of the dish)